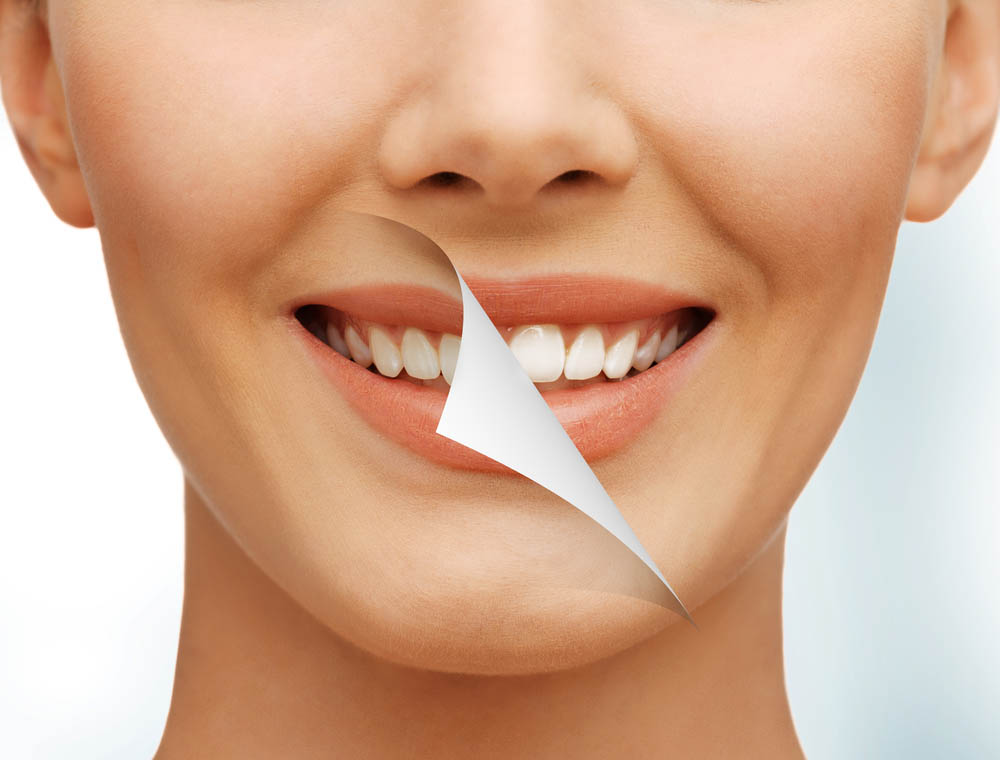 Teeth whitening is the removal of stains and discolorations from the enamel and dentin. The outer layer of the tooth is enamel, and beneath the enamel is dentin. Enamel is thin and typically much lighter in color, while dentin is darker in color and makes up the bulk of the tooth. Enamel can be discolored over time simply from age, but also from outside sources like coffee, tea, tobacco, and other foods and beverages. Also, as we age, our enamel thins, causing more dentin to show through, making the overall appearance of the tooth look darker.
Whitening your teeth removes these stains and discolorations, giving you a whiter, brighter smile. The active ingredients in Opalescence teeth whitening gels pass into your teeth to oxidize the discolored molecules deep down in your teeth, removing stains and whitening your smile.
At-home whitening gel trays
You should start seeing results from a whitening gel tray in about a week, with maximum results seen in 2 to 4 weeks' time. The amount of whitening you see will vary based on the strength of the peroxide used and length of time worn.
When combined with proper oral hygiene, at-home, dentist-supervised whitening gel trays should give you long lasting results of a year or longer.
Your dentist can fit your mouth for a custom-made tray that you fill with gel whitener at home. The whitener supplied by your dentist is stronger than the type used in over-the-counter products.
Your dentist will supervise this treatment and guide you as to how long and how often you should use it. In some instances, you may need to keep the tray on your teeth for several hours or overnight daily, for a week or longer.
Zoom
Philips Zoom WhiteSpeed
When it comes to Philips Zoom, you'll get the most dramatic results with WhiteSpeed. In one appointment your teeth could be up to 8 shades whiter, reversing stains from food and drinks,  even discoloration from some types of medication.
You'll leave the dentist chair with an instantly brighter, more confident smile.
How to whiten your teeth with Philips Zoom WhiteSpeed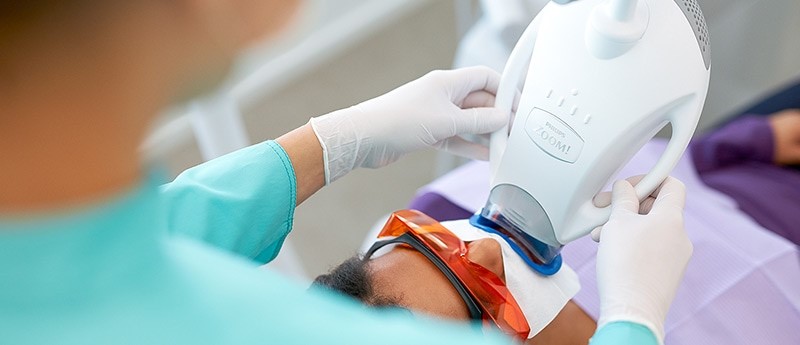 If you choose WhiteSpeed, your treatment starts with your dentist checking your current shade, so you can both see the dramatic difference after your treatment is complete.
Once you're ready, just sit back as your dental professional handles the next steps:
A dental assistant preps your mouth for whitening and applies a layer of advanced whitening gel to your teeth.
To speed up the whitening process, they'll shine the WhiteSpeed blue LED lamp onto your teeth. This accelerates the whitening, plus the lamp's variable settings ensure you'll get a comfortable experience.
This is repeated three to four times – and is completed in just over an hour!
Once you've reached your desired shade, your assistant will apply our post-treatment gel to help protect enamel and reduce sensitivity.
Before you leave your dentist's office, you'll receive customized whitening trays and a take home whitening kit, which is included in the price of your treatment. This way, you can top-up the brightness of your smile whenever you want to.
If you maintain good oral hygiene, a chairside (or in-office) procedure should provide long-lasting results for 1 to 3 years.