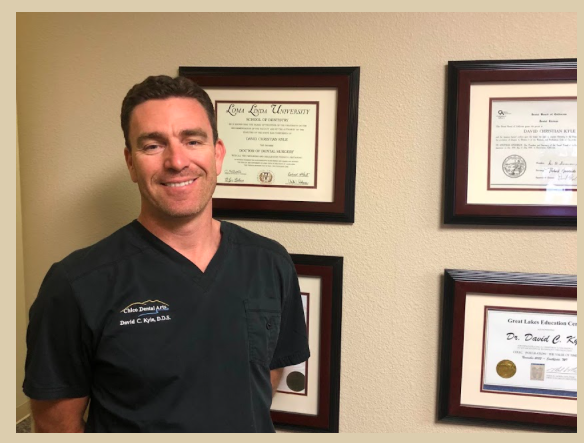 Personal Details
Doctor Name
Dr David C. Kyle
Primary Specialty
Dental
Experience
20+ Years
School
Pleasant Valley High School
College
Pacific Union College
Graduated
Loma Linda University School Of Dentistry.
You look very young! How long have you been practicing Dentistry?
Thank you 🙂 I've been practicing for over 20 years now!
Why did you become a dentist?
I've always knew I wanted to be in dentistry. My Father was a dentist, my mother was a dental hygienist so I grew up in that environment.
What do you enjoy most about being a dentist?
I really enjoy the relationships and friendships I build with my patients. A am passionate about learning and implementing the latest technology. It's exciting for me to offer the very best in what today's dentistry has to offer. I realize how fortunate I am to love my job so much!
Why do you think Chico Dental Arts is such a favorite in Chico?
I think our relationships with our patient's have a lot to do with it. We see everyone from first time visitors with us, to multi generations within the same families. The parent started off coming to us years ago, now they bring their children in. We offer the very best care available combined with the latest technology. Our patients trust us.
How do you offer so many dental procedures and services all under one roof?
The truth is, it takes a lot of time and money. You have to really dedicate yourself to learning the latest technologies. You have to be passionate about it. Also, you need to reinvest into your practice to make sure the care you offer is state of the art. It's a passion of ours that greatly benefits our patients.
Is it true you grew up in Chico?
Yes! I went to Pleasant Valley High School where I was on the football and snow ski teams. I graduated Pleasant Valley with academic honors in 1993. Then I went to Chico State for a year before transferring to Pacific Union College where I majored in Biology.
I heard you and Dr. Oster actually went to the same dental school?
Yes, thats true actually. I've known him for a long time now. I remember after we graduated from Loma Linda together, we would compete with each other in these crazy 24 hour mountain bike races! I'm lucky to have a partner here who is an amazing dentist and a great friend.
What do you like to do in your free time?
When I'm not in the office, I really enjoy spending time with my wife and three kids. When I'm not spending time with my family, you will most likely find me riding motorcycles.