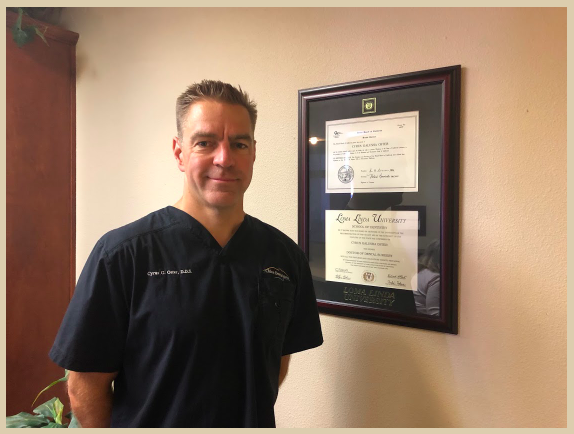 Personal Details
Doctor Name
Dr. Cyrus G. Oster
Primary Specialty
Dental
Experience
20+ Years
Graduated
Loma Linda University School Of Dentistry.
Why did you become a dentist?
Well, a few reasons. Like Dr. Kyle, I also have dentists in my family. I was inspired by this profession at a young age. Also, I've always had a passion for fixing things and chasing after perfection. Now I get to fix my patients teeth and strive for that perfection with each individual. I really love what I do.
What do you enjoy most about being a dentist?
It feels amazing to be able to help my patients achieve a healthier smile. Also, I really enjoy the friendships Ive made with my patients and we also have a great staff here that makes my work enjoyable.
What is it that separates Chico Dental Arts from other Dentists?
Well, in addition to general dentistry, we offer so much under one roof. We can handle most dental care needs here in our office. Plus we have invested greatly in being a state of the art practice offering the very best and latest technologies.
Dr. Kyle said you two went to the same dental school
Yes we did. Ive been friends with him for many years now. Did he tell you about the 24 hour mountain bike races we use to compete in? Those were crazy and really fun!
How long have you been a practicing dentist?
I've been practicing dentistry for over 20 years now
What do you like to do in your free time?
Spending time with my wife and kids is number one. Aside from that, I mountain bike regularly and ride my motorcycle once in a while. Also, as I mentioned before, I really like to fix things, so I usually have a project or two going at any given time.